Immerse yourself in the coastal lifestyle that you have always dreamt about! As amazing as city life and its many amenities are, it can also feel incredible to be able to head home after a long day to a quiet retreat – no noise, no traffic, no crowds. And especially now—as working from home becomes more normal for us due to COVID-19 and commuting every day becomes less essential for a significant segment of the workplace—many people are exploring home options in more peaceful destinations along the North Carolina coast. This completely unique area of the Wilmington region is home to world-class beaches to watersports, boating, and much more. If you have dreamt of living in an idyllic coastal setting away from the hustle and bustle of big city life, this will be the place for you. Are you curious about the home options available in some of Wilmington's most desirable areas? Take a look below to see some of Wilmington's most extraordinary escapes.
2340 Ocean Point Drive, Wilmington 28405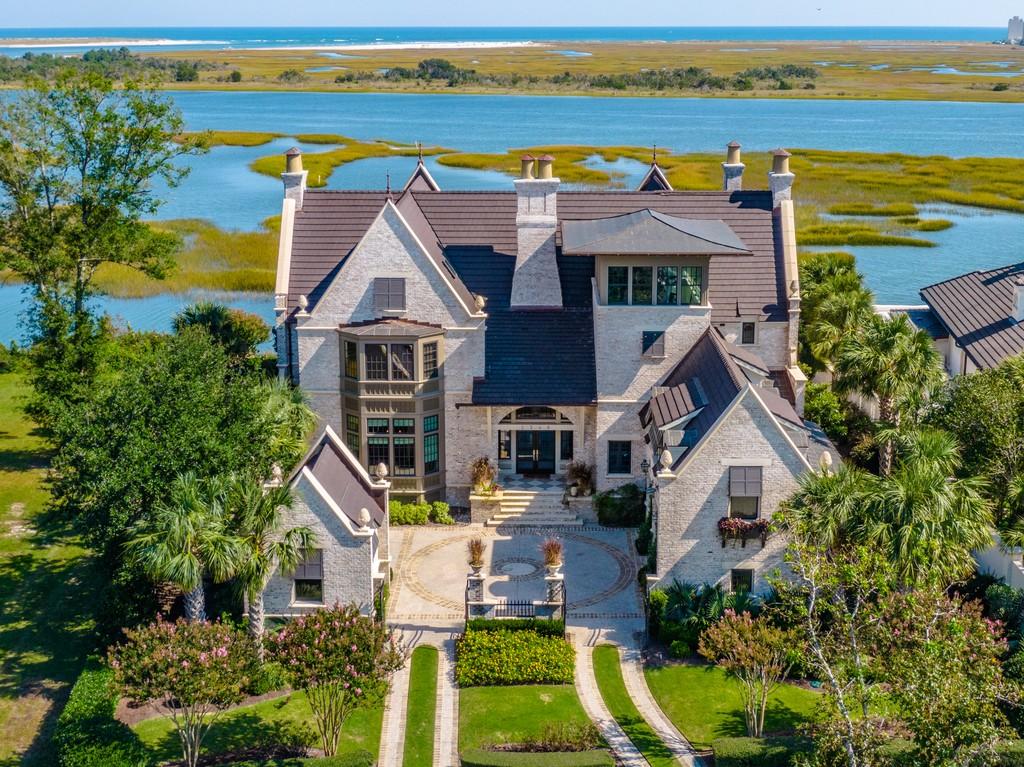 Introducing 2340 Ocean Point Drive, one of coastal North Carolina's most iconic waterfront residences. This West Indies inspired masterpiece is set high on a bluff overlooking the Intracoastal Waterway and the Atlantic Ocean. Offered completely furnished, decorated, and turn-key. Precision craftsmanship can be found in every finish of this magnificent residence designed by architect Charles Dietsche. The home is grand in scale and filled with soothing color palettes of gray, sea salt, and aquamarine hues that contrast elegantly with dark Brazilian Walnut floors. Overhead, coffered ceilings connect gracefully with exposed beams and louvered transom windows that give a sense of grandeur with a distinctly coastal flair. Adjoining either side of the great room are spacious common areas.
The south wing features the kitchen, formal dining area, butler's pantry, reading nook, and home office. The kitchen is a chef's dream with a 6-burner range, including a griddle, warming drawer, massive handcrafted vent hood, and sparkling recycled-bottle Vihara backsplash. Opposite, the living area is anchored by a parlor with a floating wet bar, 945 bottles climate-controlled wine cellar, fireplace, and waterfront billiards room. One of the most dramatic features of the home is the great room's sliding doors that open the living area to the poolside veranda. The infinity pool blends seamlessly into the Intracoastal Waterway's blue waters and the waves breaking in the Atlantic Ocean. Upstairs, the master suite features a built-in headboard, fireplace, and spectacular views of the sea. The master bath features a shimmering glass tile shower, classic vanities, and soaking tub. The second floor includes a full guest suite with a kitchenette, laundry, bath, and adjoining bunk room. The third-floor tower provides perfect space for a state-of-the-art fitness center. Exterior features include lush landscaping, infinity pool, spa, outdoor fireplace, and putting green. Once called the most coveted house on television, the home's interior was the film setting for Madeleine Stowe's Grayson Manor, in the primetime television series "Revenge".
Listed By: Nick Phillips
Landmark Sotheby's International Realty
910.679.8047
521 Beach Road, Wilmington 28411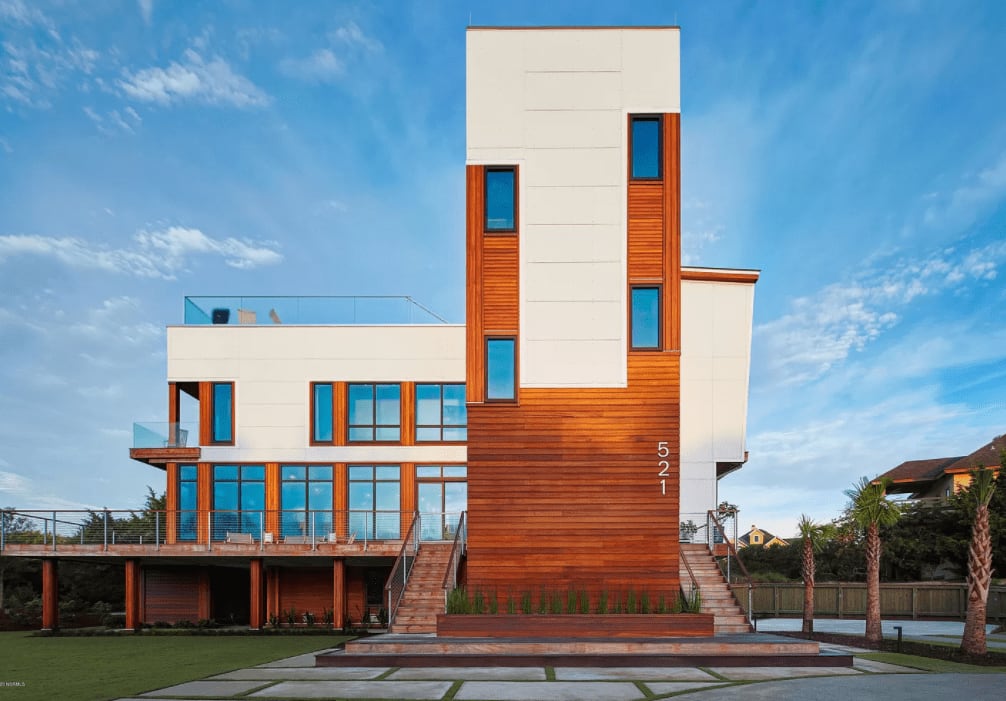 Oo-tray, the name of this contemporary home on Figure Eight Island, goes over and above the norm in breaking the mold in architecture and design, boasting 4,056 square feet with four bedrooms, four bathrooms, a rooftop cabana, and a pool with 360-degree views of the Intracoastal waterway and Atlantic ocean. Its unconventional appearance is meant to look and feel like a ship with its practical use of materials and unique details. The maritime motif even extends to a historic shipwreck discovered on the property. On April 17, 1877, a lumber schooner, the John S. Lee, was lost at sea. One hundred thirty-eight years later, a family set out to build a home on the shipwreck site. The remains of the old schooner were discovered just below the sand of this Figure Eight Island home. The new beach home is built like a well-designed ship, paying homage to the John S. Lee, crafted from wood, able to weather a Category 5 hurricane while affording access to sun, view, and sea breezes from every vantage. The fourth floor of the home is a favorite, offering 360-degree views from a pool with a fire pit on one side and faces a seating area created from a boat's stern. Once the U.S. Navy hull was built in 1971, the boat's bow is used as a bar inside the rooftop cabana separated from the outdoor area by folding glass doors. Holly and teak inlay floors, porthole windows, doors that resemble boat hatches, and an all stainless-steel bathroom with a marine head and sink truly make the top floor look and feel like a boat. You can enjoy both an ocean view and an Intracoastal view while entertaining guests in the pool. A two-inch-thick clear acrylic panel holds the water in the stainless-steel pool.
Listed By: Mark Batson
Landmark Sotheby's International Realty
910.679.8047
1 Auditorium Circle, Wrightsville Beach 28480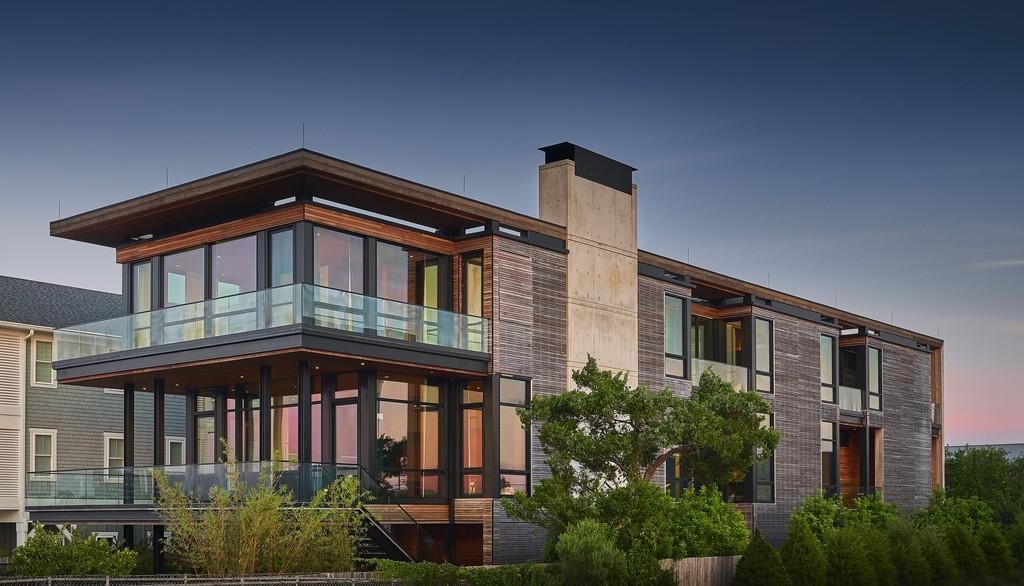 Mid-Atlantic Hawaiian Modern Inspired by the postwar phenomenon known as tropical modernism and the designs of mid-century Hawaiian modernist Architect Vladimir Ossipoff, this contemporary home by Michael Ross Kersting, A.I.A. & Christopher Parker, P.E. embraces the landscape & seashore with engaging spaces for seamless indoor-outdoor living. It's broad frontage as the Easternmost dwelling on Harbor Island, North Carolina, located in the Township of Wrightsville Beach, affords privacy and dramatic views of the Atlantic Ocean. Complete furniture package design by preeminent interior design firm Suzanne C. Moss, A.S.I.D. With a structural steel moment frame, deep cantilevered overhangs, cast-in-place architectural concrete, and horizontally juxtaposed ipe rain screen siding - it leads to appropriate modernism in the Mid-Atlantic United States.
Listed By: David Benford
Landmark Sotheby's International Realty
910.679.8047