After a real estate boom, the prospect of a slowdown can feel daunting. But lessons from past downturns show there are potential upsides to market stability after a period of unsustainable growth. That is particularly true for buyers, who enter 2023 with increased bargaining power after cutthroat competition, bidding wars, and record prices.
The move toward a slower sales pace and stabilizing prices heralds a shift that is part of the housing market's natural cycle, says Corey Burr, senior vice president TTR Sotheby's International Realty, which has offices in Washington, D.C., Maryland, and Virginia. "I've done this all day every day for 35 years, so I've seen upswings at the peak of what the market can be, particularly 2005 to 2007 and also at the very end of the 1980s. And I've seen market lows, which lasted through the 1990s, and which went from 2008 to 2013," he says. "I personally subscribe to a theory that real estate runs in 16-year cycles."
Sales of new-build homes fell and construction stalled in 2022. At the same time, sales of existing homes dropped and mortgage applications hit a 22-year low, according to the Mortgage Bankers Association and the National Association of Realtors. But housing vacancies remained at historic lows heading into 2023, according to census data. Mortgage underwriting remains tight, negative equity is nearly nonexistent, and most loans are fixed-rate products, all of which suggest a fundamentally healthy market.
Inventory Continues To Shape Market
Lessons from the past suggest the outlook for 2023 may be more positive than some might think. "I'm not anticipating the free fall that we experienced in 2008," Burr says. "It's going to feel like it's getting cold very quickly, but the incredible peak that the real estate industry was on for over a two-and-a-half year period was nearly unprecedented. Anything but that scenario is going to seem like a strong cooling off." According to the National Association of Realtors, in October 2022, 64% of houses were still selling within 30 days. "It's still a very strong market, historically," he says.
Shortage of inventory is one factor helping to bolster home prices. "We're still seeing a supply-and-demand issue, and that ultimately is going to push the market," says Shen Schulz, senior global real estate advisor and associate broker, Sotheby's International Realty - Malibu Brokerage. "There may be a slowing in the number of units, but the prices are maintaining a strong valuation." Some price corrections are expected as part of "the normal balancing of scales," he adds, but "if somebody really does want to make a change, either sell their home or buy a new one, they will become used to the higher interest rates and business will slowly improve."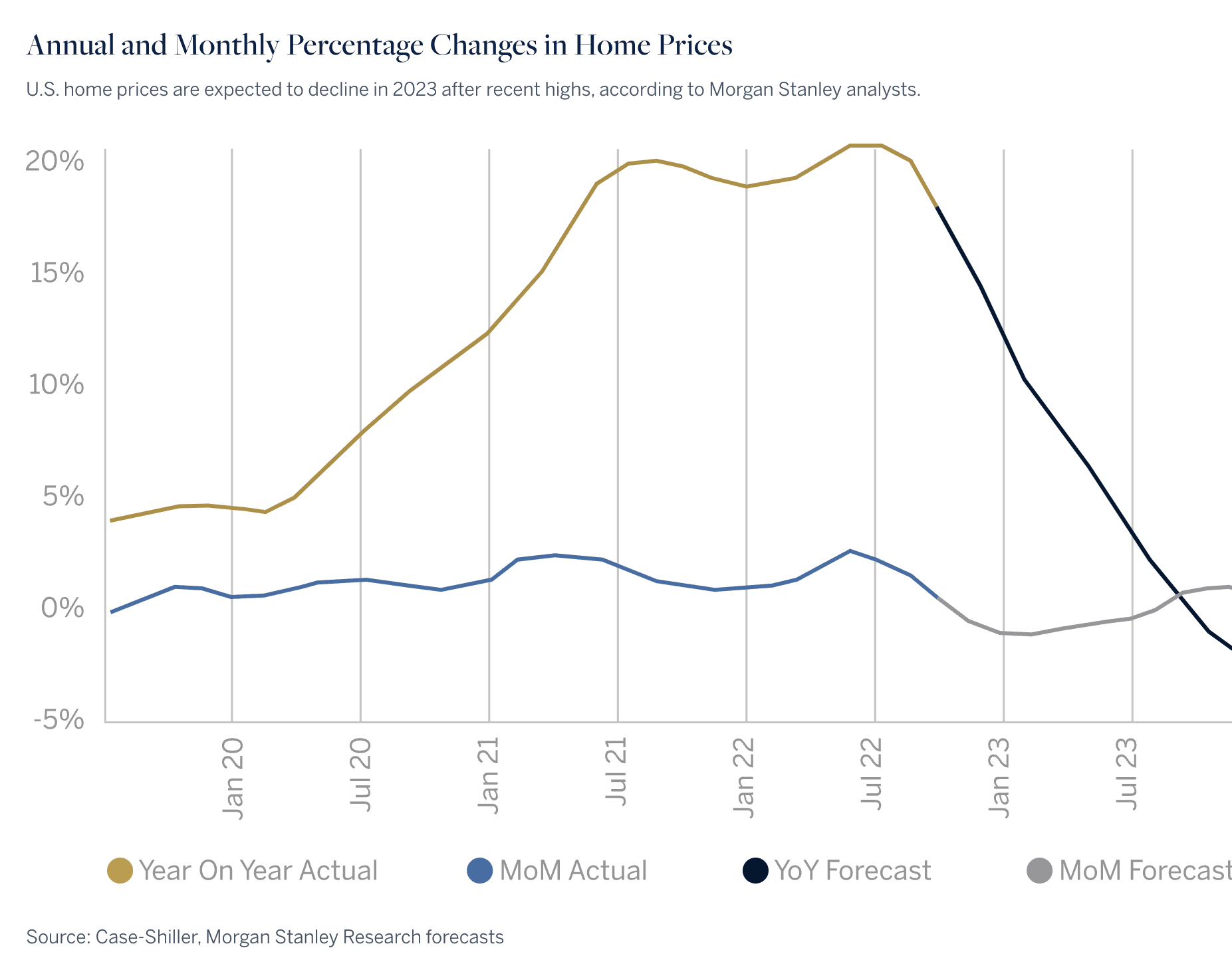 Taking a Pause
In the short term, evidence from previous downturns suggests buyers and sellers may wait for more economic clarity before making moves during the first half of 2023. "Because of what is occurring at a macroeconomic level—inflation rates, mortgages, pressure on corporate earnings—people have elected to take a pause," says Budge Huskey, president and CEO, Premier Sotheby's International Realty, which has offices in Florida and North Carolina.
Another factor that could put a temporary pause on sales is tension between buyers and sellers, as the market shifts, prices grow, and volume of sales slow. "It's going to require some additional time before we start to bridge the disconnect in value perceptions between buyers and sellers," Huskey says. Based on previous experience, "the best read I can provide is that we will be returning to unit-sales levels that'll be more in line with 2019, yet with 2022 prices."
Lessons from past downturns in the New York market suggest it takes a minimum of six months for sales to resume following a shock to the market, says Glenn Norrgard, senior global real estate advisor and associate broker, Sotheby's International Realty - Downtown Manhattan Brokerage. The volume of home sales in New York is usually steady throughout the year. "Whenever you have something that upsets that—like 9/11, the crash in 2008, Covid—and the number of contracts signed goes down, at some point something happens where that comes roaring back."
Experience suggests that activity may start to increase in New York in the first quarter of 2023. "We're going to a kinder, gentler time when it actually took a few weeks or a few months to sell a property and you have one buyer for it, versus 10," he says. "As prices fall, you're going to see more people jumping in."
Buyers in the Driver's Seat
The rise in mortgage rates and lower volume of sales affords buyers time to do their due diligence after a period of lightning-fast transactions. "Buyers were previously waiving contingencies and lawyers were condoning that, so contracts were very loose," says Deirdre O'Connell, CEO at Daniel Gale Sotheby's International Realty on Long Island. "I think that heading back to a more normal market, where people can have a little more time to make their decisions, is a good thing."
As the market shifts, buyers will be back in the driver's seat. "This is the first time in two-and-a-half years where buyers have a much greater chance of buying a property without severe competition, with the possibility of getting some negotiated lower price, and with the greater possibility of including safeguards, like a home inspection, appraisal contingency, and financing-approval contingency," Burr says. "Those are the bright sides for buyers."
Pricing Lessons for Sellers, Too
"The first two weeks of every listing, no matter what the price range, no matter where the location, are always a seller's market, so it's very important for sellers to make the most of that opportunity," Burr says. "The greatest risk is for sellers who think, for one reason or another, they can 'beat' recent sales that have taken place nearby their properties in a new market environment." Sellers may need to "make a slight adjustment to their pricing to be more reasonable and give a nod to the new reality," he says.
The primary lesson for sellers going into 2023 is that "it's very important to price very close to where it's actually going to sell," Norrgard says. Rather than looking at what similar properties sold for six months ago, sellers should be guided by contracts closed within the past few weeks. "You have to look ahead," he says. For property owners who don't need to sell, the rental market is strong, creating other opportunities, he adds.
Luxury Market Driven by Sentiment
Some high-net-worth buyers may rely more on feelings than numbers when it comes to purchasing a home in an uncertain economic climate. "When you move into the luxury spectrum, what you're finding is the vast majority of homes are selling with no mortgage. The buyers can afford it. It isn't whether or not they can buy something, it's whether they feel like buying something," Huskey says. "The luxury market is largely driven by sentiment and a perception about what is occurring in the future."
The inflection point that restores confidence may come very soon. "We've seen inflation come off its peak. We've seen mortgage rates start to stabilize. We've seen employment continue to be strong," he says. Once buyers see progress on bringing down inflation, "it'll then be easier for companies to continue making their quarterly earnings potentials, and at that point, people start to feel good again."
Taking a Long-Term Perspective
One characteristic of the pandemic property rush that mimicked past booms is that "people really got into buying homes as an investment and wanting immediate appreciation," says O'Connell. "But property is an asset that appreciates over time," she adds. "If you look at the historical run of real estate, we have always appreciated in the U.S. When you take out those little pockets of downturns, it's still an appreciation over time."
A market correction can lead to "a tremendous amount of fear," she says, but "the big lesson is downturns come and downturns go, and on the back end of every downturn is another period of appreciation."